Can I Bring My Pet?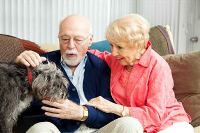 Other Articles in this section:
If you have a pet you will need to ask the retirement village staff whether they accept pets in the village. There are a range of pet policies among village operators, some villages ban all pets whilst others allow pets under certain conditions.
A village may allow a certain number of pets, a pet of a certain size or they may allow a pet as long as the pet doesn't make too much noise and is approved by the other residents.
While others will allow you to bring in an existing pet but you will not be allowed to replace that pet if the pet dies.
It is important to make sure you understand all of the conditions when considering briniging a pet into a retirement village. You'll often find the pet policy on the village's website, however it is still best to ask the manager directly as not all of the conditions may appear on the village website.
Where Can I Find a Pet Friendly Village?
If you will only consider villages which allow pets, then you can use our online directory to search for pet friendly villages. Click on the links below for a list of these villages in your state.
Pet Friendly Retirement Villages in Queensland
Pet Friendly Retirement Villages in New South Wales
Pet Friendly Retirement Villages in Victoria
Pet Friendly Retirement Villages in South Australia
Pet Friendly Retirement Villages in Western Australia